Seascapes of Downeast Maine


Artists' reception: Thursday, July 20th. 7-9 pm
Exhibited July 16 to August 15, 2006


The diversity of island subjects and the play of light and fog of Coastal Maine is translated by artists past and present into realist, expressionist, and impressionist and works that reflect each unique vision. Collectively these artists draw upon centuries of direct experience of the everlasting magic that is unique to the coastal waters and islands of Downeast Maine.
Maine Coast c. 1875
Alfred Thompson Bricher (1837-1908)
16" x 34", with new gold frame 19" x 37"

An Associate of the National Academy, Alfred Thompson Bricher was known especially for his serene, luminist seascapes, reminscent of works by Fitz Hugh Lane and Martin Johnson Heade. Born April 10,1837, Portsmouth, NH, Bricher grew up in Newburyport, MA. Largely self-taught, Bricher studied art at Lowell Institute, Boston in the 1850's. In the 1860s he followed his contemporaries to the White Mountains, and was active in Boston and Newburyport, MA until 1868 when he moved to New York. He executed his best work during the 1870s-80s when he spent many summers painting on the coasts of Massachusetts, Maine (Monhegan Island), and Rhode Island (1871-76), as well on Long Island, especially at Southampton.
Bricher was a significant second-generation Hudson River School landscapist and marine painter who is considered to be the last of the relevant American luminists. He is best known for his marine paintings depicting New England shorelines, in which crashing waves show the dynamic forces of nature.With ease and finesse he captured the natural ambiance around the ocean and its coasts and the artist's reverence for the presence of what is before him is apparent.
Today A.T. Bricher is considered one of the finest marine painters of his era, and his work is in great demand because each of his canvases and watercolors show resplendently and with confident brushwork how nature looked during the late 19th and early 20th centuries.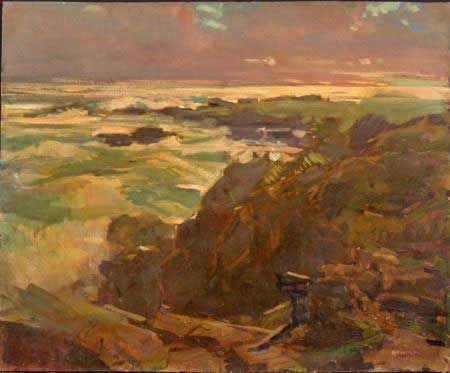 Sunset, Monhegan
Jay Hall Connaway (1893-1970)
Signed "Connaway" l.r., titled reverse.
Oil on board, 24 x 29 in.

Born in Liberty, Indiana, Jay Hall Connaway was fascinated by coastal life and marine scenery, an attraction that had profound effects on his life and artwork. After periodically studying at the Art Institute of Indianapolis and at the Art Students League with William Merritt Chase, Connaway traveled throughout the United States.ndertake further study in Paris at the Academie Julian and at the Ecole des Beaux-Arts. Encouraged by Robert Macbeth (Macbeth Gal., NYC) and artists Paul Dougherty, Emil Carlsen, and Frederick Waugh, he spent 1922-25 painting at Head Harbor, ME. From 1929-31 he was painting in Brittany and Paris, sponsored by Macbeth and Milch. Returning in the midst of the Depression, he and his family settled at Monhegan Island, ME year-round from 1931 until 1947. when they moved to Dorset and then Pawlet, VT. A popular landscape painter with robust brushwork, he gave lectures and demonstrations around the country. He ran a summer school at Monhegan until 1947, and at Dorset, VT until 1966. His work was featured in an unprecedented 85 one-man shows, evidence of his successful and widely renowned career as a skilled sea painter.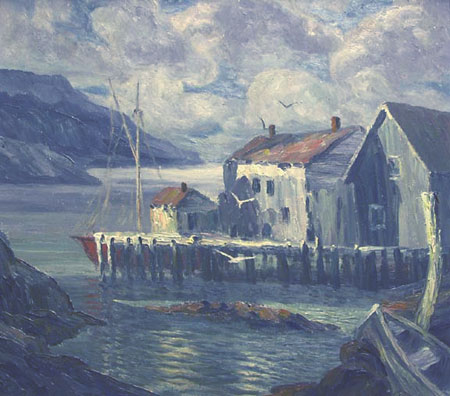 "CASCO BAY, MAINE"
CARL ARTHUR FAILLE (1884-1956)
OIL on BOARD: 16" X 18" Ornate Wood Frame 22" x 24"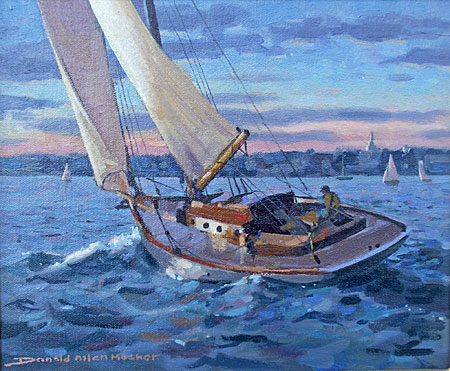 Late Day Sail Oil on Board 10 x 12
Donald Allen Mosher

Donald Mosher grew up on the North Shore and has lived in Rockport since 1980. A descendant of ship builders from Nova Scotia and farmers from Maine, Don is naturally drawn to the power of the sea and the tranquility of the New England countryside. His interest in art began after winning his first award at the age of eight, and he has since won over 200 awards for his work. A 1968 graduate of Vesper George School of Art, where he met his wife Christine, Don has been a painting instructor and demonstrator and has been featured in several national publications including Yankee and American Artist Magazine. His paintings hang in the permanent collections of large corporations, institutions, banks, and private homes throughout the United States and abroad including the Peabody Museum, Portland Art museum, and the State House in Boston.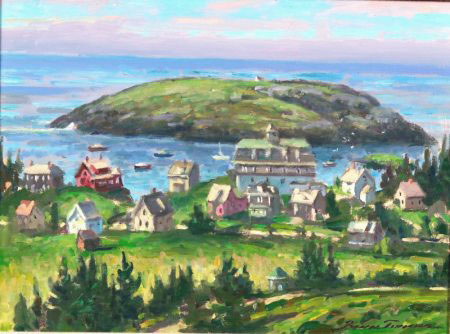 Bruce Backman Turner (1941)
Monhegan Village

Signed Bruce Turner l.r.
Oil on board. 12 X 16 in.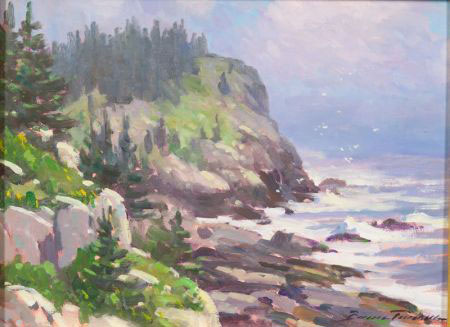 Bruce Backman Turner (1941)
Island Flight, Monhegan Island
Signed Bruce Turner l.r., 12 X 16 in.
In 1970 Turner began exhibiting his work throughout New England and New York. His work is in private collections throughout the U.S., Canada, England, France, Belgium, Sweden, Saudi Arabia and Australia. Bruce has received over 50 national and regional awards in his career, and is listed in Who's Who in American Art. His work has appeared in "American Artist Magazine", "Monhegan - The Artist's Island" , "The Best of Oil Paintings", and Grumbacher's "Palette Talk". Member: Am Artists Prof League; Copley Soc Boston; North Shore Arts Asn; Chautauqua Art Asn; Salmagundi Club.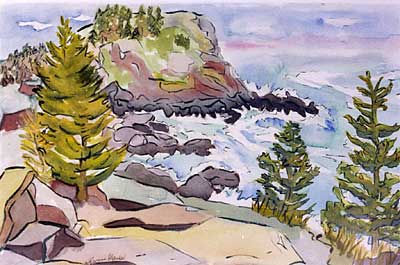 Rocks and Shoals, Monhegan (watercolor, 14" x 21.5")
Bonnie Alpander

Maine native Bonnie Alpander graduated from the University of Maine, Orono with a BS degree in Art Education. She also took advantage of several years abroad to visit museums and study art in Turkey, France and the Netherlands. Drawing upon this background in the Fine Arts, a clear influence of contemporary landscape artists is revealed in her watercolors, as she continues to develop her own unique style. "My greatest love is to paint on location, discovering new colors, patterns, and rhythms while capturing the intimacy of nature." Her love of plein air painting is expressed by annual pilgrimages to Acadia, Monhegan , and other favorite destinations along the Maine Coast.

Storm Clouds, Schoodic (watercolor, 10 x 14)
Geraldine McKeown
Geraldine McKeown studied art at Towson University and the Barnes Foundation. She began the study of watercolor with Ed Whitney at his summer workshops in Maine and has taught watercolor herself for over 20 years. She is the recipient of the BWS Silver Medal for watercolor and a number of other regional and national awards including being selected as one of the top 100 painters in the prestigious Arts for the Parks National Competition. She is a signature member of the National Watercolor Society, Baltimore Watercolor Society, Pennsylvania Watercolor Society and the Philadelphia Water Color Society.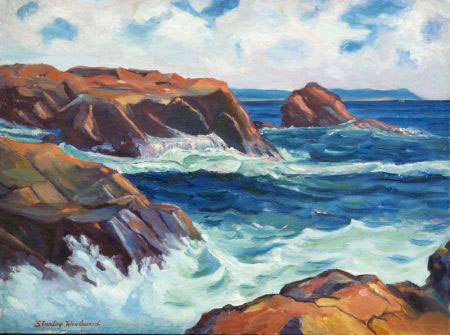 Stanley Wingate Woodward (American, 1890-1970)
When the Wind Blows West
Signed Stanley Woodward l.l.
Oil on Canvas 12 X 16 in.
Stanley Wingate Woodward was a Rockport school painter of marine subjects. He was the author of "Adventures in Marine Painting" and "Marine Painting in Oil and Watercolor" He exhibited widely ( the Penn-sylvania Academy, Corcoran Gallery, National Academy, Boston Museum of Fine Arts, etc.) He was awarded many prizes, National Academy, American Watercolor Society, Baltimore Watercolor Society, Rockport Art Association, North Shore AA, etc. His work is in The Boston Museum, Fort Worth, Univ. of Michigan , Bowdoin College, Amherst College, etc.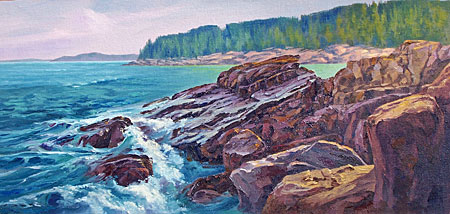 Endless Rhythms (oil on canvas, 12" x 24")
by William Marvin

William Marvin is privileged to be able to capture the ever-changing moods of nature, out in the open, fresh and unspoiled. Bill attended the Art Center College of Design in Pasadena taking extensive courses in design, drawing, painting and illustration. Upon graduating with honors in 1974 he came to Chicago to begin a challenging career as a graphic designer. Bill started showing his landscapes in 1996 and immediately began to draw attention from collectors. His work embodies dynamic compositions and an impressionistic use of color. The results are paintings that are vibrant with light and energy. He has painted throughout the Midwest and the Southwest, and most recently the Maine Coast and Acadia National Park. Bill's artwork hangs in private and corporate collections throughout the United States.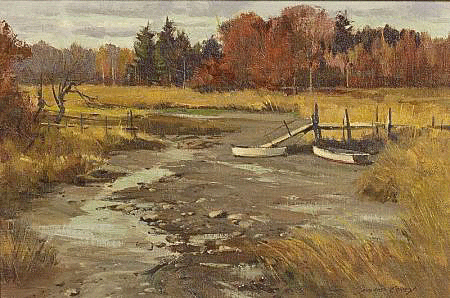 The Lost Cove
Bernard Corey (1914-2000)
oil on canvas 9" x 14" Condition: Excellent


Bernard Corey (1914-2000) is nationally recognized as one of the finest plein air landscape painters active in New England during the twentieth century. Corey painted on location all over the Northeast alongside other great New England masters who were his friends including Lester Stevens, Emile Gruppe, and many others. Memberships included the Rockport Art Association, Salmagundi Club, the Guild of Boston Artists, North Shore Art Association and more. Having won over 100 awards and honors, some include awards at the North Shore Art Association, Rockport Art Association, Salmagundi Club, NYC, Hudson Valley Art Association, Providence Water Color Club, Allied Artists of America and many more.


Sailboat at Mooring (8 x 10 oil on canvas)
Brad Betts

Brad Betts paints a variety of landscape scenes from Maine's dramatic shoreline. His paintings reflect his deep appreciation for the works of many fine artists, including Edward Hopper and the nautical scenes of John Stobart. Brad has been an artist for over 15 years and received his education from the University of Maine in Orono. He comes from a long line of artists that includes his father and grandparents. He has studied with Carolyn Blish and Don Demers and is a member of the American Society of Marine Artists. Brad loves the challenge of painting on location. "There is nothing like sitting in front of a Maine scene and painting it, when you hear the sounds of waves and birds and you smell the sea you truly get to be a part of the painting." Brad hopes to give his viewers a sense that they too are a part of his scenes.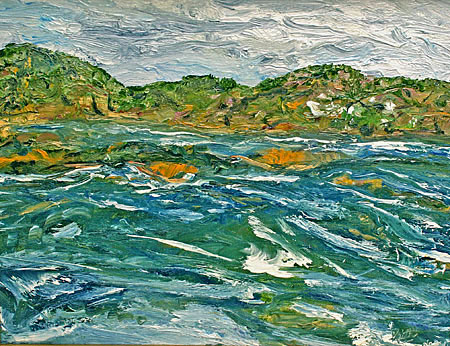 Turbulence 11 x 14 Oil on Canvas
Keith Schneider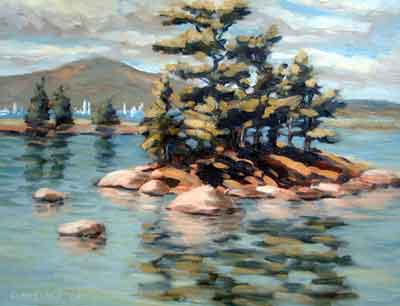 The Island, Blue Hill Bay
Gail Cleveland

Gail Cleveland daughter of well-known Maine artist, Wini Smart, has been painting all her life. She spends her summer on Mount Desert Island and winters in the Narrows where she paints pleine air landscapes of Acadia and surrounding areas in all four seasons. A hiking enthusiast, Gail has painted large watercolors reflecting the picturesque beauty of the peninsula as seen from atop Blue Hill.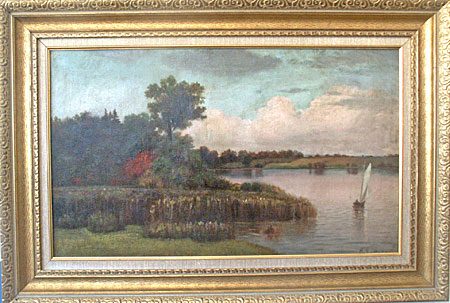 Late Summer Sail

American School (c. 1900)
18x30 in 25x37 frame, Condition: Good

Wonderful turn-of-the-century American landscape of a luminous evening sail. The pink clouds are reflected on the calm water while the white sail and red tree balance the composition. The paint is applied in many different ways to try and capture the texture of clouds, trees and water. The colors are well rendered to convey the evening mood perfectly.
The painting was restored, cleaned and re-framed in the 80's. It is in now in very good condition with three minor repairs and a little touch up in those areas. One was an L shaped tear in the pink clouds to the left of the large tree in center. It measures about 1.25" diagonally and 1" horizontally. Almost directly below that, in the rushes closest to the frame, there was a horizontal tear of about 1" that was patched and touched up. And beside the sailboat is a tiny spot of touch up that measures just under 1/4" in diameter. The repairs were expertly done and aren't noticeable in person.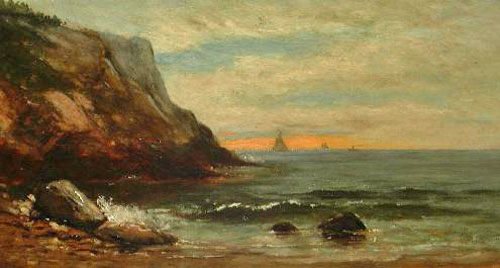 New England Seacscape

Wesley Webber (1841-1914)
11" x 22" in 19" x 30" gold period frame


Fine quality oil on canvas painting of a coastal scene (New England) at twilight. The painting is unsigned but I am attributing to the work of a Massachusetts artist who is known for his coastal paintings from the late 19th century. There is a label on the stretcher from Charles Edmonds, a Boston art supplier, and there is a label on the frame from Eben Smith of Lincoln Street in Boston. These are original 19th century labels. The painting is in very good condition with no repairs, paint loss, etc. Nice orange, peach color to the sky and reddish browns and dark greens to the coastal bluff. Original gold double ornate frame is in very good condition but with some of the leaf ornaments missing in the upper left and lower right corners.
For prices of these and other works in this exhibition please see the "paintings and artists" section of the site. Better still, stop by and visit the gallery during the summer or for the opening wine and cheese reception on Thursday, July 20th, 7-9 pm
See the calendar for future exhibitions.