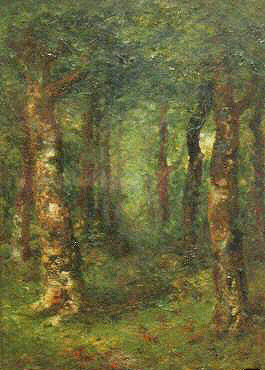 Forest Interior (oil on canvas, 20" x 12")
by Maria a Becket (1840-1904)
Gilded Antique Gold frame, 33" x 29"

SOLD

Maria A' Becket was a well listed American painter who is cited in many American art references of her era. She was born in 1840 in Portland, Maine, Daughter of Charles Beckett, a Maine Landscape and genre painter. In 1865 she studied with Homer Dodge Martin and later with William Morris Hunt in Boston. She was influenced by the Barbizon painters at Pont Aven and painted with the famous French painter Charles Daubigny during a trip to France. At this time she changed her name to A' Becket. Maria A' Becket was a woman artist far ahead of her time; her palette is strong dense, deep with greens, burnt sienna, deep blues, and a mature loose brushstroke that one seldom acquires in a short artistic career displaying her natural talent as well as the experience gained by studying with the masters of early impressionism. Though her Barbizon influence is often stressed, this work reveals strong elements of Tonalism and Impressionism and is quite similar to her seminal work "Northern Lights". She exhibited at the Boston Art Club in 1875, the National Gallery in 1883 and 1888, and at the Pennsylvania Academy of Fine Arts from 1880 to 1884 and the New York's Women's Club to name just a few. It is only recently that we have fully recognized the great talents of our American women painters and started to give them the praise which they so richly deserve. This new realization has made their works much in demand and valuable.