American Painters in the Tonalist Tradition


Exhibited May 15 to July 15, 2006
(Reception Saturday, June 17th, 3-6 pm)
next exhibit all exhibits



Tonalism, a distinctive style of low-toned atmospheric landscape painting, developed a sizable following among American artists in the 1880s. This first generation of tonalist artists, most born after 1845, and many foreign trained in Paris and Munich, broke with the prevailing school of Hudson River artists and their large detailed panoramic views of the American scenes. Many streams of influences fed into the growing taste for a more intimate, poetic, and expressive style of landscape art, relying on soft-edged broadly painted tonalities to communicate emotion. Initially influenced by French Barbizon painting by way of American exponents George Inness (1825-1894), William Morris Hunt (1824-1879), American tonalist painters tended to use a neutral palette of predominantly cool colors: green, blue, mauve, violet, and a delicate range of intervening grays, carefully modulated to produce a dominant tone. Preferred subjects were scenes of dawn or dusk, rising mist and moonlight in which the enveloping atmosphere is evocative of poetic and meditative states. Nearly all the artists presented in this exhibition recognize George Inness as a seminal influence.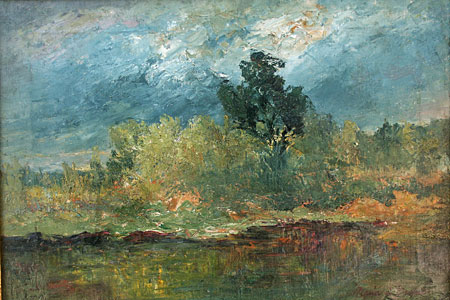 Study of the Outdoors (oil on canvas, 13.5" x 19.5")

Maria A' Becket (1840-1904)


Maria A' Becket (1840-1904) was a member of the first generation of American tonalist painters and is cited in many American art references of her era. She was born in 1840 in Portland, Maine, Daughter of Charles Beckett, a Maine Landscape and genre painter. In 1865 she studied with Homer Dodge Martin and later with William Morris Hunt in Boston. She was influenced by the Barbizon painters at Pont Aven and painted with the famous French painter Charles-Francois Daubigny during a trip to France. Shortly afterwords she painted scenes like the one above on excursions into the White Mountains. Her palette is strong dense, deep with greens, burnt sienna, deep blues, and a mature loose brushstroke that one seldom acquires in a short artistic career displaying her natural talent as well as the experience gained by studying with the masters of early impressionism. Though her Barbizon influence is often stressed, this work reveals strong elements of Tonalism. She exhibited at the Boston Art Club in 1875, the National Gallery in 1883 and 1888, and at the Pennsylvania Academy of Fine Arts from 1880 to 1884 and the New York's Women's Club to name just a few.
This work, titled verso "Study of the Outdoors", is an exquisite oil on canvas that exudes her brilliant tonalist eye with wonderful impasto effects creating reflections and light play. The technique of glazing, the layering of thin layers of pigment suspended in oil or varnish, came to play an important part in the Tonalist repertoire of effects. Light penetrating these thin washes of color to an undercoat of more solid color was reflected back to the surface, producing a jewel-like quality of scintillating, bewitching hues. The smoky quality or sfumato, also achieved by such methods, imparted a vibrancy of contour and blurring of forms that came to characterize many Tonalist landscapes.

Charles Warren Eaton A.N.A. (1857-1937)
"French River Scene," oil on canvas, 21 1/2 x 26 in.
PROVENANCE: Morton Bradley Estate, Arlington, Massachusetts.

Founding member of Lotus and Salmagundi Clubs, Eaton was known for his Tonalist landscapes at the Academy of Design. In 1886, he shared a NYC studio with L. Ochtman and Ben Foster, and traveled with them to Grez (near Barbizon). He also painted in Italy, Holland, France, and frequently returned to Bruges, Belgium. 1889, George Inness purchased a painting from Eaton and later became his mentor. Greatly influenced by Inness to become a Tonalist painter. Like Henry Ranger and Elliott Daingerfield, he was one of the major contributors to the Tonalist Movement. Eaton became known for moody landscapes with golden earth tones and muted colors. He also, painted snow scenes, Berkshire pine forests of New York State, white pine forests of Connecticut Colebrook, and canal scenes from Europe.
This French river scene depicts a domesticated landscape bathed in silvery-blue light, producing a wonderful atmospheric effect. Eaton was a master of formal compositional techniques and decorative strategies based upon a generalized hue which he achieved by using a neutral ground on the canvas.

Shepherd's Lane (Oil on canvas, 12" x 16")

Charles Appel (1857-1928)


Born in Brooklyn, New York, Charles Appel is known for romantic landscapes and marine paintings in Tonalist and Impressionistic styles.He was a pupil of Francis Luis Mora and William Merritt Chase at the New York School of Art and of Frank Vincent DuMond at The Art Students League. As is evident in the painting here, the major influence on his career, however, was George Inness. Most of his life was spent in East Orange, New Jersey from where he was active in New York art circles and elected a member of the Salmagundi Club in 1906.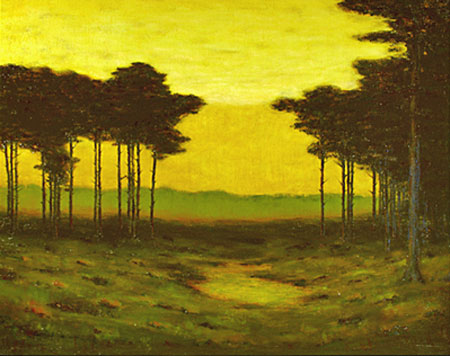 The Pines (o/c 24 x 30)
Michael Fratrich


Michael Fratrich's eye for rural New England scenes is translated by brushstroke into two distinct styles: American Realism and Barbizon Tonalism. His first love is for detailed renderings of everyday scenes, but though he creates paintings derived from real places, they are not intended to be simply representational. "I have never tried to duplicate through oils a picture of an historical barn or a vintage covered bridge. Rather, I try to paint mood and atmosphere…I paint in a darkened studio with strong light illuminating only my easel. This allows me to focus on bringing forth the images that I see and feel within myself. Through this process I attempt to capture not only my heartfelt emotion, but to kindle those same feelings in the viewers of my work."
In his Tonalist work, such as "The Pines", Michael explores a more expressive style of landscape art, relying on soft-edged broadly painted tonalities in the manner of Eaton to communicate a serene evening mood.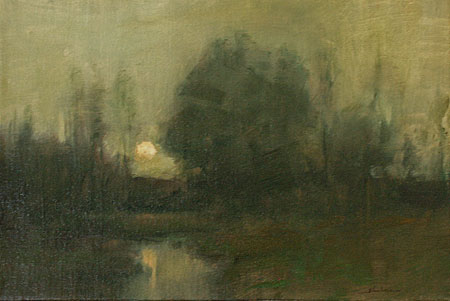 Clair de Lune (oil on linen, 12" x 18")

Dennis Sheehan

Dennis Sheehan, born in Boston in 1950, is a member of the Guild of Boston Artists, and currently lives and works in the New Hampshire countryside. His work is in major public and private collections, including the White House. Sheehan paints in the Barbizon mode with remarkable authority and faithful adherence to his 19th century precursors. In the tradition of Inness and American Tonalist painters, Sheehan creates landscapes of mood, affected by nature's changing seasons. Mystery, dream, memory, and imagination are often espoused in their haunting, broadly painted canvases of dusk and moonlight. "My goal is to have the painting emanate light, rather than be just a surface that records the reflections of light. This is why the shadow areas are important, for it is from them that this emanation proceeds. The light areas are focal points of this effort, but the power comes from the shadows."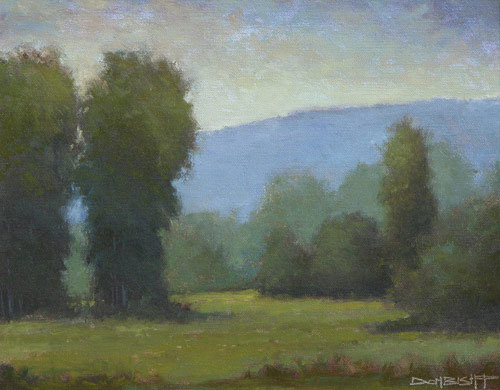 Green Valley (oil on canvas, 11"x14")

Don Bishop

Don Bishop is rapidly emerging as one of the most accomplished tonalist painters in the Pacific Northwest where he divides his time between plein air and studio work. Most of his pieces are painted alla prima using different color combinations according to the season and light. His roots are firmly planted in the early Californian impressionism because of the outstanding patterns of color and atmosphere associated with this school. Don has won several awards at recent shows including a blue ribbon at the 2003 Lake Oswego Art Festival, and has patrons throughout the US include Senator John Edwards and his wife, Elizabeth, of North Carolina.
"Green Valley" illustrates the use of refraction, or the play of adjoining color masses—the "lost-edge" technique, which resulted in a general diffusion of tone and a luxurious, atmospheric quality. Natural forms are dramatized, their edges blurred, patterns and decorative elements emphasized, enhancing the surface quality of the canvas. A finely composed Tonalist painting reads compellingly and immediately when viewed at a distance: all parts contribute to the whole.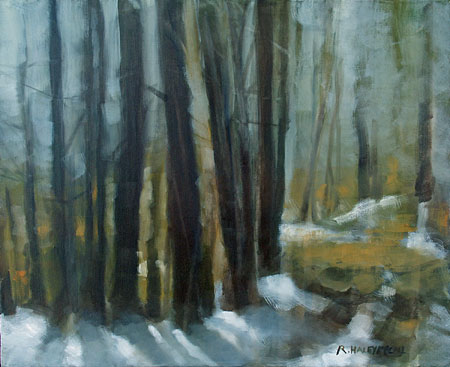 Mountain Trail, Blue Hill (oil on linen, 18" x 22")

Rebecca Haley McCall

Rebecca Haley McCall paints enchanting and moody landscapes in all seasons from her home in Blue Hill, Maine and exhibits her work widely throughout the State. She received a BA in Art History at Simmons College in Boston in 1971 and later studied at the School of the Worcester Art Museum in 1985-86. Recently she illustrated "Shelterwood" by Susan Hand Shetterly published by Tilbury House Publishers.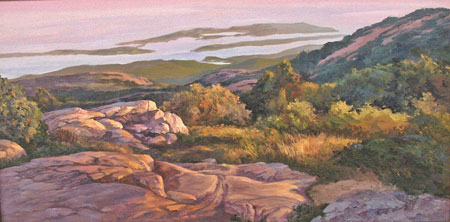 Evening Hush (oil on canvas, 14" x 30")

William Marvin

William Marvin is privileged to be able to capture the ever-changing moods of nature, out in the open, fresh and unspoiled. Bill attended the Art Center College of Design in Pasadena taking extensive courses in design, drawing, painting and illustration. Upon graduating with honors in 1974 he came to Chicago to begin a challenging career as a graphic designer. Bill started showing his landscapes in 1996 and immediately began to draw attention from collectors. His art focuses on dynamic compositions and an impressionistic use of color. The results are paintings that are vibrant with light and energy. He has painted throughout the Midwest and the Southwest, and most recently the Maine Coast and Acadia National Park. Bill's artwork hangs in private and corporate collections throughout the United States. "Evening Hush" captures the soft, diffuse light as the shadows cast by the setting sun lengthen over Cadillac Mountain and the Cranberry Isles.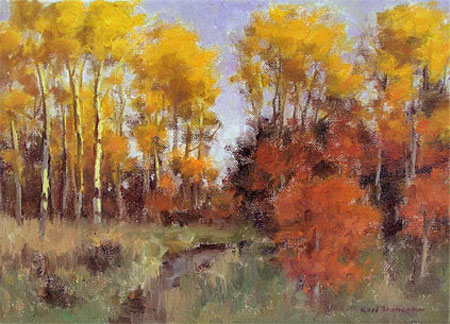 Golden Autumn (9x12 oil on canvas)

Karl Thomas

Widely acclaimed for his plein air compositions of the Grand Canyon of Arizona, The Grand Tetons of Wyoming and Wasatch Mountains near his Utah home, Karl Thomas acknowledges the influences of Inness, Sargent, Bierstadt and Moran on what he describes as his own style of "realistic impressionism." Early inspiration at his father's easel led to art studies at Brigham Young University, where he graduated in 1982, and the Los Angeles Art Center. Karl Thomas is represented by major galleries from California to New York and has been included in the Collectors Sale in Dallas and the American Art Classic and Texas Renaissance Sale in Houston. He was featured in the January 1990 issue of Art of the West and was selected in the top 100 artists in the Arts for the parks Exhibition in 1995.
Winter Glow (oil on canvas, 18" x 24")

William McLane, Jr.

The works of William McLane, Jr. are highly collectible and hang in galleries and homes throughout the United States and abroad. His artwork is particularly well known on the East Coast – especially on the islands of Nantucket and Martha's Vineyard and the coast of Maine. He is a member of the Artist's Association of Nantucket. He is a versatile painter whose work varies from abstract to impressionism always with an effective vibrant use of color and excellent composition.
For prices of these and other works in this exhibition please see the "paintings and artists" section of the site. Better still, stop by and visit the gallery during the spring or for the opening wine and cheese reception on Saturday, June 17th, 3-6 pm
See the calendar for future exhibitions.