Summer in Maine

Exhibited August 1 to September 30 2013

Stefan Alexis Pastuhov
First day of Summer, Port Clyde
16 x 20 Oil on Canvas
$1850

Descended from Russian grandparents who fled to America in 1917, Stefan Pastuhov was instantly inspired by his surroundings when he moved to Maine in 1984. In those early years he and Stapleton Kearns painted together almost daily and Pastuhov loved the challenge of painting the changing weather and light, coming and going of the tide, the beautiful red of the blueberry barrens, pristine winter landscapes, and the intemperate seas and rocky coast. He has been especially influenced by painters in the Cape Ann plein air tradition Aldro Hibbard, Emile Gruppe, Paul Strisik, and often paints Maine landscapes with Cape Ann artists like Donald Mosher.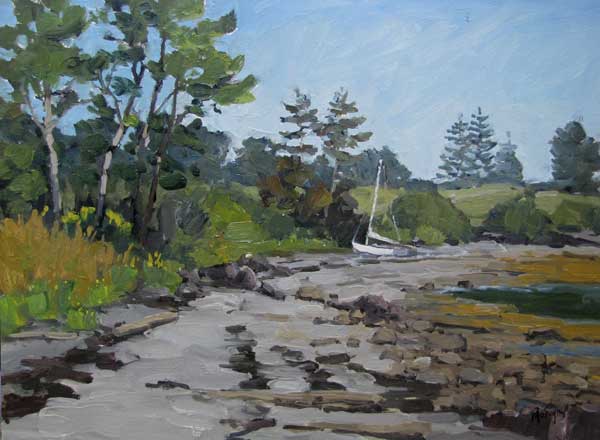 Stefan Alexis Pastuhov
Ready to Sail
12 x 16 Oil on Canvas
$1150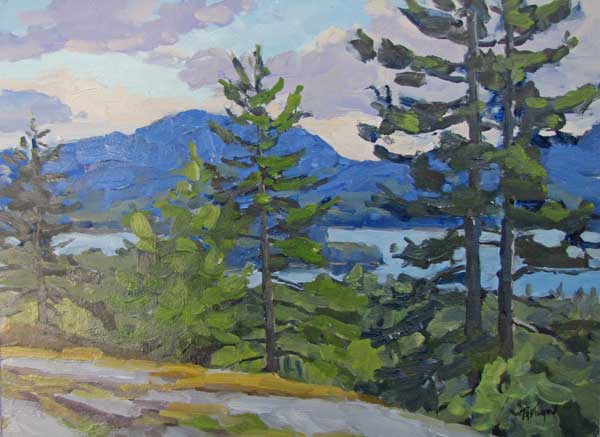 Stefan Alexis Pastuhov
Bald Mountain, Lucerne
12 x 16 Oil on Board
$1150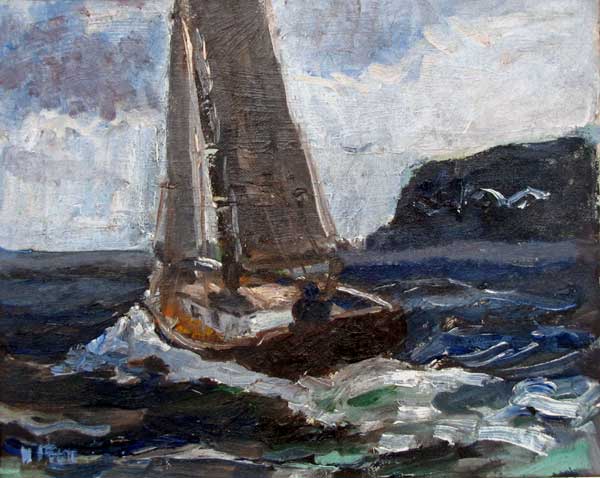 WILLIAM THON, NA (1906-2000)
Monhegan Fisherman
8 x 10 Oil on canvas board
12 x 14 framed in gold
$2500
William Thon was an American artist noted for highly abstracted landscape paintings. He was born in New York City in 1906, and spent his childhood summers camping on Staten Island. Eventually Thon chose to live in the relative isolation of Maine on a peninsula overlooking the sea, a quiet place, especially in winter. He chose the company of sailors, craftsmen, lobstermen, a few fellow artists, and his beloved wife Helen. This area is credited as providing a major breakthrough stylistically because of his discovery of an abandoned quarry near his property. Here he did numerous and increasingly abstract paintings of spidery trees with rectilinear slabs of interspersed granite. While still based in nature, these were by far the most abstract of any of his paintings.
Each season, William Thon would send his paintings off to the prestigious Midtown Galleries in New York City as though sending them on a journey to a strange and distant land. Each bore the imprint of his intense connection to raw and wild things, beautifully contained within the artist's capable and generous temperament. Thon's paintings of Maine had little to do with rural nostalgia or American historical values or the pathos of human relationships. His was a living Maine, a timeless and vital place reflecting his own passion for its rough, beautiful forests, intemperate seas, and the scatter of wooden buildings along its rugged shoreline.
William Thon was awarded innumerable prizes and is represented in over 60 museum collections including The Metropolitan Museum of Art, The Brooklyn Museum, The Hirshhorn Museum, The Butler Institute of American Art, The Columbus Museum of Art, and in Maine, The Farnsworth Art Museum, The Portland Museum of Art, and The Ogunquit Museum of Art.
Mark is a contemporary realist painter with 30 years experience and a background that includes training in New York at the Arts Students League and the National Academy, as well as several Paris ateliers. He began painting in Maine in the mid 70's with a group of artist friends who came for summers to paint Maine's rocky coast and its many islands. Because he draws his inspiration from those places and things close to him, he eventually relocated to Maine in 1984. He has shown his work in galleries in New York, California, Florida, North Carolina, and Maine, and was the subject of a feature article in American Artist Magazine. His work is represented in The Portland Museum Art (The Elizabeth Noyce Collection) and in many private and corporate collections throughout the U.S. and abroad.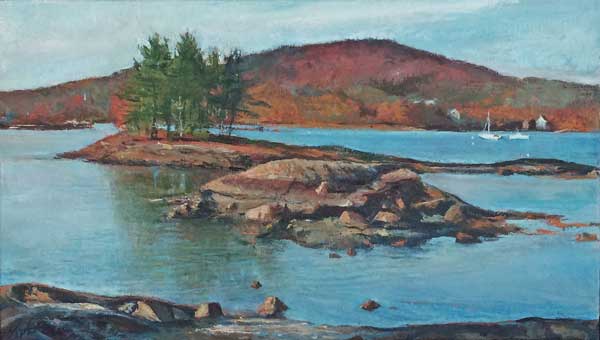 Mark Haltof
Blue Hill Panorama
Oil on Canvas 12 x 21 (21 x 32)
$3500 Framed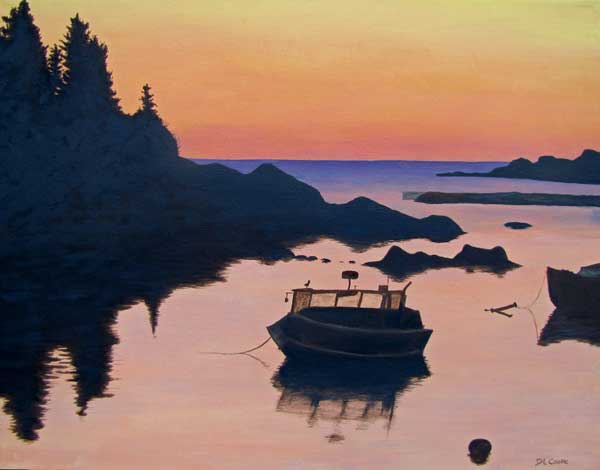 Downeast Dawn
16 x 20 Oil on Canvas
$900 Framed

Debra Lord Cooke is a contemporary realist painter with over 25 years experience painting Maine landscapes in all four seasons. Her paintings are rooted in the American realist tradition as defined by artists such as Andrew Wyeth. She skillfully applies a traditional approach to composition and technique to contemporary Maine designs.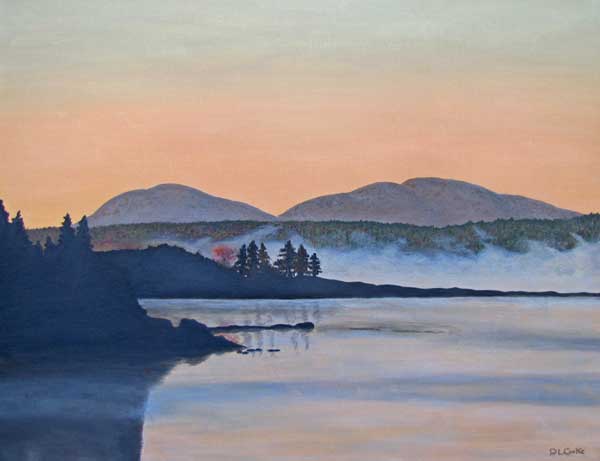 Mt Dessert Island
16 x 20 Oil on Canvas
$900 Framed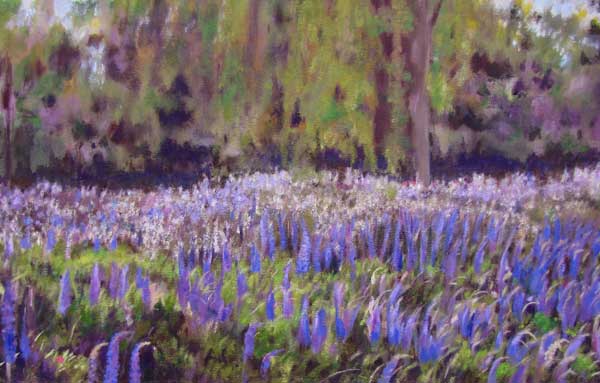 Marjorie Moskowitz
Lupine and Phlox
Oil on Canvas 19 x 29

$3000 framed
Marjorie Moskowitz, a native of St. Louis, Mo., was educated at Washington University with degrees in Painting and Drawing. She is represented in Galleries throughout the US and has taught painting, drawing, and art history for eleven years in colleges and universities in the St. Louis and Illinois area, and Otis College of Art, Los Angeles, Ca.
Her move to Ventura County, Ca. in 1998, brought the opportunity for travel to Europe, each year with groups of students, to explore the great art and history of Italy, France, and Spain. The first year, in Italy, she began a new direction: Landscapes. The first was a plein air oil pastel of the view from the Boboli Gardens in Florence. Large paintings and oil pastels followed and included Color Field paintings that have now been exhibited throughout Maine, the Midwest and California.
Diane Scott was born in Winnipeg , Manitoba , Canada and attended three Schools of Art in Toronto, Canada. She received a Bachelor of Fine Arts degree from Herts College of Art and Design in St. Albans, England, 1985. She also studied for 6 years at North River Arts Society with John Kilroy 1992 -1998 and attended workshops with Lois Griffel, Tom Browning, Kevin MacPherson, Carolyn Anderson, Dan Gerhartz, Scott Burdick, Mark Daily, Don Stone and Randall Sexton.
" My main focus as I mature as an artist has become to find my authentic voice, to embrace it, to protect and defend it, to nurture it, to hold it close to my heart, as I would an imperfect child!"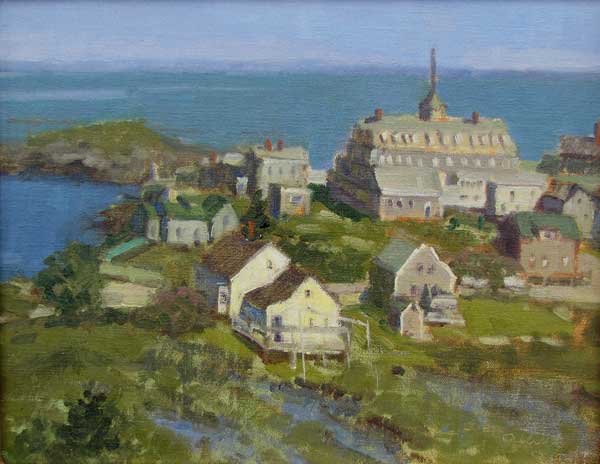 Monhegan Vista
11 x 14 Oil
Diane Scott

$900
Dennis Poirier
Dennis Poirier grew up in Gloucester, Massachusetts. He began his formal studies at Butera School of Art in Boston, then returned to Cape Ann to study with John C. Terelak and Ted Goerschner at the newly formed Gloucester Academy of Fine Arts. Later he moved to New York City to study at the Arts Student League winning the Charles J. Romans Memorial Award at his very first national exhibit at the Allied Artists of America Show.
Dennis is a member of many prestigious art associations including the Oil Painters of America, North Shore Arts Association,Rockport Art Association, the Copley Society of Art (a Copley Artist), the Hudson Valley Arts Association, and the Academic Artists Association.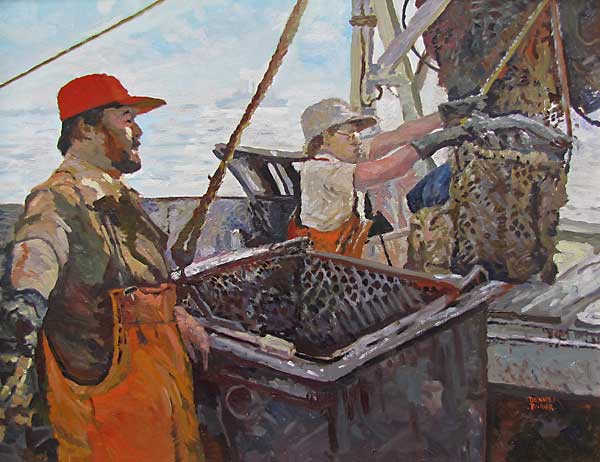 Hazy Morning Fishing
Dennis Poirier
24 x 30 Oil on Canvas
$4500 Framed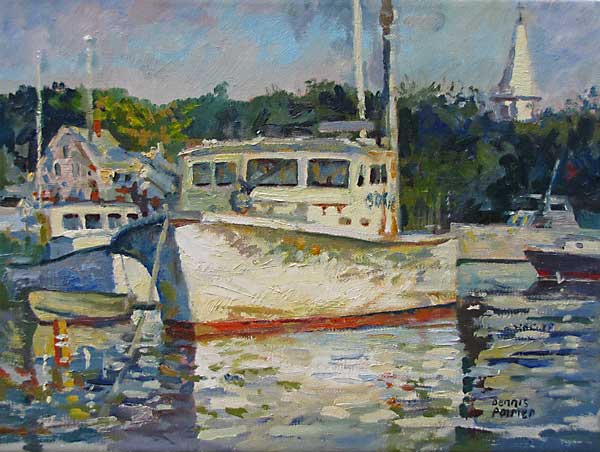 Sunny Harbor
Dennis Poirier
9 x 12 Oil on Canvas
$900 Framed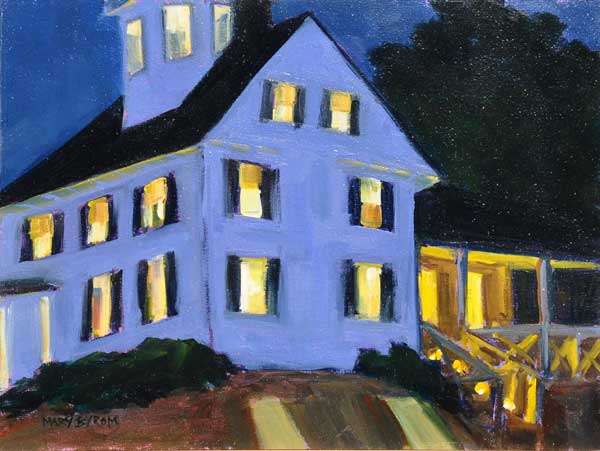 Mary Byrom
The Parsonage
12 x 16 oil
$1900

Mary Byrom lives on the southern seacoast of Maine within close reach of her favorite painting locations, the marshes and the rocky coast. A trained designer, illustrator, and painter she has an academic background in fine art. She paints from life with a focus on plein air landscape painting and is outdoors year round painting on location. Mary has received numerous awards for her paintings that are found in private collections around the world. She is a member of the American Impressionist Society and the North Shore Arts Assoc.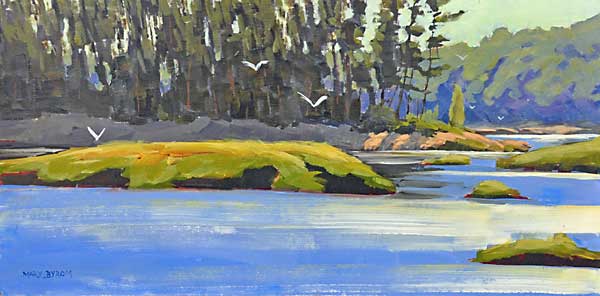 Mary Byrom
Late Summer Glow
10 x 20 oil on panel
$1900
Kenneth Knowles
Kenneth J. Knowles is a well established talent, known widely throughout New England for his work in landscape impressionism. On a normal day, Knowles spends four to eight hours outside working on the beginning stages of one or two paintings. At any given time, he has as many as 15 projects in progress. He then brings the paintings into his studio for what can be days or months worth of 'finish' before he feels they are complete. "There are several ways to finish a painting, from just a few touches to weeks of adding texture and depth."
Ken was 17 years old when he sought out artists to teach him including well-known Rockport artists T.M. Nicholas and Stapleton Kearns. Later he studied also under John Terelak. He is a member of the Rockport Art Association. His awards include the Silver Brush Award from the American Art Association, the Edward and Elizabeth Schlemm Memorial Award for exceptional landscape in oil, and the Freda Gallery Award. Born in 1968, he is one of the strongest young American landscape painters.
Ken Knowles
Cape Porpoise
12 x 16 Oil on Board
$1950
William Marvin

is privileged to be able to capture the ever-changing moods of nature, out in the open, fresh and unspoiled. Bill attended the Art Center College of Design in Pasadena taking extensive courses in design, drawing, painting and illustration. Upon graduating with honors in 1974 he came to Chicago to begin a challenging career as a graphic designer. Bill started showing his landscapes in 1996 and immediately began to draw attention from collectors. His representational art focuses on dynamic compositions and an impressionistic use of color. The results are paintings that are vibrant with light and energy. He has painted throughout the Midwest and the Southwest, and most recently the Maine Coast and Acadia National Park. Bill's artwork hangs in private and corporate collections throughout the United States.

Light Dance

William Marvin

Oil on Board 15" x 30"

$2750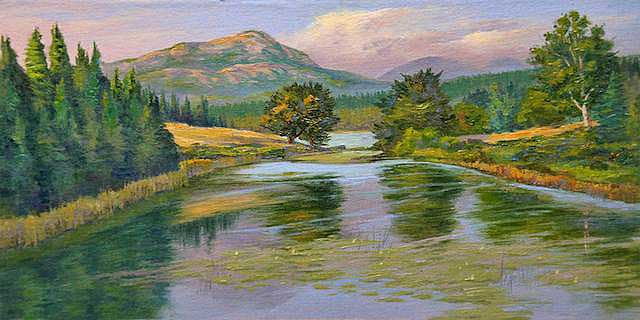 Long Pond Memories

by William Marvin

Oil on Board 12" x 24"

$1500


Swedish born artist, Bertil Whyman, paints coastal Maine with a strong emphasis on color and light. Depicting the atmosphere of the scene is very important to Whyman who attempts "to rediscover who we are by portraying images of where we have been." The old houses, docks and boats, that fill his paintings, represent the care and quality that went into hand crafted items of years ago. Inspired by Vermeer, Manet, Homer and Sargent, Whyman is a self-taught artist whose paintings have been exhibited at galleries throughout Maine, Maryland and Vermont.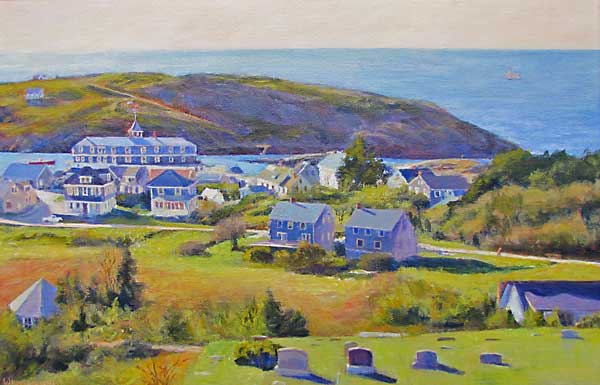 Bertil Whyman
Monhegan & Manana
16 x 24 Oil on Linen
$3200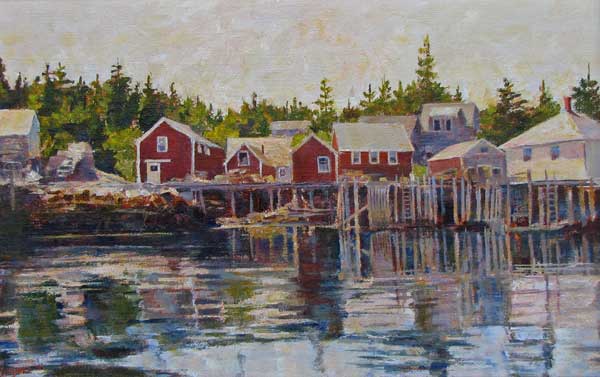 Bertil Whyman
Matinicus Workfront
12 x 18 Oil on Linen
$2000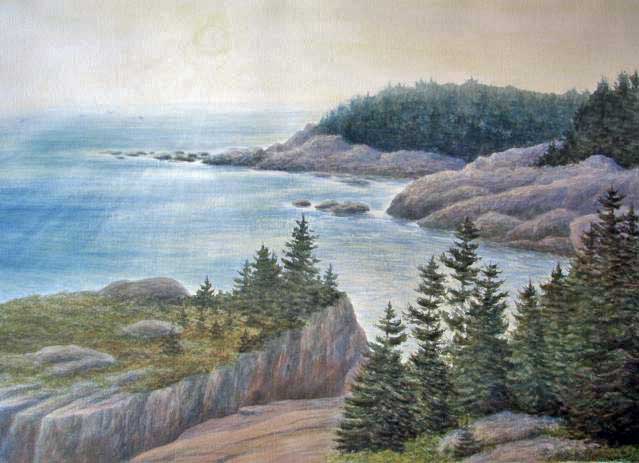 Sunrise, Isle au Haut
Charles McCaughtry
Watercolor 37x49 Framed
$4000

Charles McCaughtry, born in Niles, Ohio, graduated from Capital University with majors in Art and History. He subsequently earned a M.A.Ed. degree from the Hartford Art School. Charley has furthered his studies at the Masterclass, Rangemark, Birch Harbor, Maine, and with notables such as Barse Miller, Ed Betts, and Chen Chi. A pure landscape and the interactions of earth, water, sky, and light are the major themes of his work. Charley has had forty one-man exhibitions and has participated in over two hundred national, regional, and special exhibitions. His paintings have been honored with over thirty awards. His paintings can be found in many institutional, corporate, foundation and private collections in the United States, Canada, and Europe.

Morning Fog in the Narrows
Charles McCaughtry
Watercolor 33x47
$3500
Richard Roflow
Schoodic Point
Gouache, 13 x 20
$1500



Maine painter Richard Roflow loves to paint the intimate details of the landscape that he encounters on near his home and studio on Deer Isle, as well as the iconic images of Acadia National Park. He came by his love of painting nature early in life, though his formal education was at the Cincinnati Art Academy in the 1950's.
Now over 50 years later most of his paintings are inspired by the drama of the Maine coast and coastal weather. "He rarely paints on a sunny day. It's always misty, foggy, and dramatic. He paints those days that Mainers know as being a Maine day," said Barbara Entzminger, whose Bar Harbor Birdnest Gallery exhibited many of Roflow's paintings in years past. "I consider myself a light painter. I try to paint the light I see and how it creates distances," Roflow said, explaining the prominence given to plays of light in his compositions.

Roflow, a two-time winner in the National Park Academy of the Arts competition, Arts for the Parks was recently honored as the Maine artist featured in the Presidential suite of the Bar Harbor Regency reserved for President Obama and his family for their visit in July, 2010.

Acadian Dawn, Low Tide
Richard Roflow
watercolor 21 x 24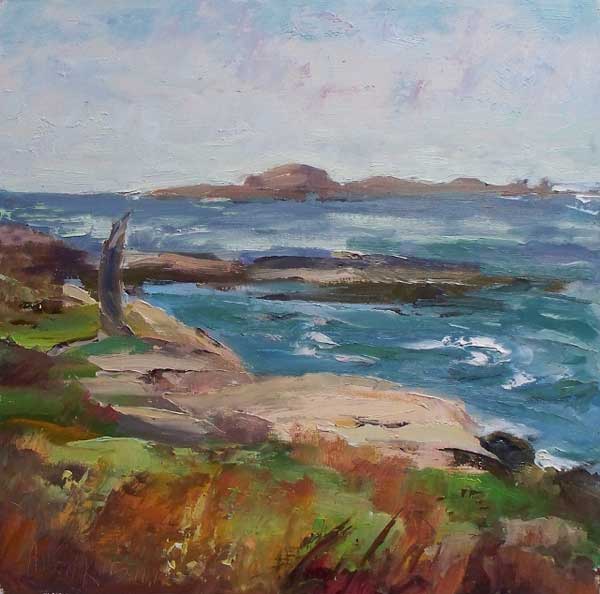 Valerie Aponik
Island View
12 x 12 Oil
$550

Valerie Aponik lives and works from her studio/home on Great Wass Island. Primarily a plein air painter, Aponik is often found along the local waterfront, islands, homes and gardens of Coastal Maine in all Four Seasons "Painting on location, gives me the most alive feeling of the now. I seek to record that moment, in my own language, through paint, color, form and the play of light and dark. Sharing the work is a chance to connect, in a unique way, with nature and place.

Having grown up in a family of oil painters who spent summers in Maine, Karen continues this tradition by returning to Maine every year. She has painted landscapes and coastal scenes en plein air for over 15 years, accumulating knowledge of nature for work in her studio as well. A Connecticut resident, Karen received her formal education at the Lyme Academy of Fine Arts and has participated in workshops with Mike Graves, Chris Magadini, and David Lussier. An Elected Artist member of Lyme Art Association and Kent Art Association, she is also a member of Connecticut Plein Air Painters Society, Deer Isle Artists Association, Housatonic Art League, Society of Creative Artists of Newtown and Washington Art Association.

Stonington View
Karen Cashman
9 x 12 Oil on Canvas
$600 Framed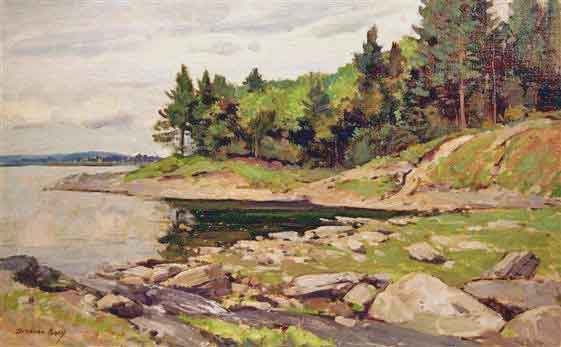 Bernard Corey (1914-2000)
Coastal Inlet
signed Bernard Corey, l.r., oil on board 10 x 16
Ornate Gold Frame 16 x 22
$3400F

Bernard Corey is one of New England's most beloved landscape painters of the 20th century. He executed paintings surely en plein aire with accuracy and competence. Memberships included the Rockport Art Association, Salmagundi Club, the Guild of Boston Artists, North Shore Art Association and more. Having won over 100 awards and honors, including awards at the North Shore Art Association, Rockport Art Association, Salmagundi Club, NYC, Hudson Valley Art Association, Providence Water Color Club, Allied Artists of America and many more. He painted almost every day of his life with fellow artists in the fields, along the streams and beaches and in the mountains in and around New England.

Bernard Corey was the "last of the old school" of traditional New England landscape painters. When he died early in 2000, the era when artists painted for ten hours a day, every day with competency came to an end. Corey's carefully painted impressionistic plein aire canvases captured the essence of nature in all four seasons. The Rockport Art Association gave Corey a retrospective exhibition (October-November 2000) saluting the artist's profound understanding of nature and painting.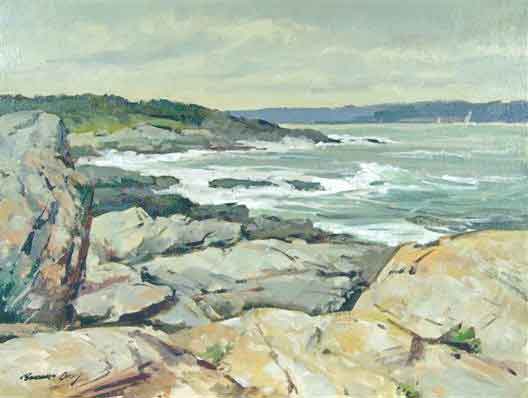 Bernard Corey (1914-2000)
Maine Surf
signed Bernard Corey, l.l.,
oil on board 12x16
Framed in Silver 18 x 22
$3400F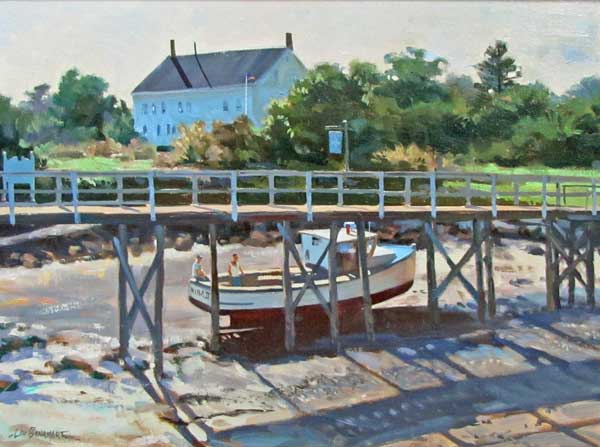 LOU BONAMARTE (American, 1933-)
NINA II AT TENANTS HARBOR
Oil on canvas 12 x 16
In a fine gilt modern frame with linen matte & gilt liner 20 x 24
Lou Bonamarte was born in New London, Connecticut, a deep river port, in 1933 and has spent many years roaming the piers and shoreline not far from his home, sketching and painting.
"Began painting at the age of thirty-five. Studied with John Pike in 1964 and again in 1968. Prior to this I was a graphic designer and also did illustration. During this period I attended many outdoor (sidewalk) shows and, then in 1970, 1 decided to go fulltime as a fine artist. I had little success at first and was doing freelance illustration and advertising design. I receive my first acknowledgment from the American Watercolor Society in 1972, when they awarded me the Herb Olsen Award for my watercolor "Martha's Porch". Three years later, in 1975, 1 became an artist member of Grand Central Art Galleries in New York City. I was one of three people who were responsible for founding the Lyme Art Academy of Fine Arts."