Classic Paintings of Coastal Maine

Exhibited May 1 to Aug 1 2015

"Few if any external influences have made themselves more potently felt in American art than the geographic one exhibited by the coast of Maine. There is something characteristically American typified by these rugged, rocky shores, which has been the inspiration of some of our greatest and most truly national paintings."
- Art Historian, Ralph Carey

Just scroll down to see each painting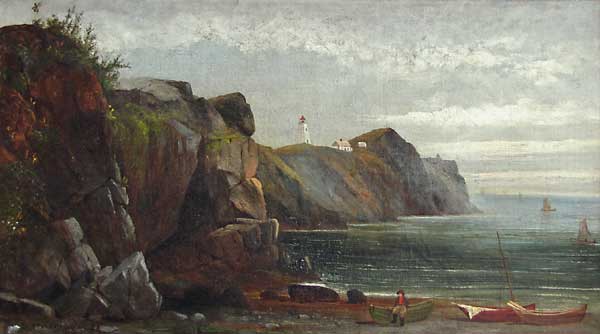 Samuel W. Griggs (1827-1898)
Swallowtail Light, Grand Manan, 1876
Signed and dated "S.W. Griggs '76" l.l.
Oil on canvas, 14 x 24 framed: 20 x 30
$3000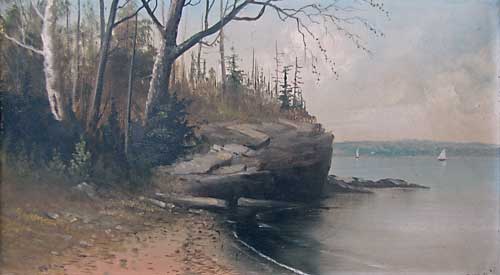 George M. Hathaway (1852-1903) 


Diamond Island, Portland Harbor 

Oil on board, sizes 6 x 10 1/2 in. framed
$1500
Hathaway, a native New Englander, is remembered for his intimate views of the northeast coastline. Having spent a great deal of time in Portland, Maine, he interpreted the well-known Portland Head Lighthouse on occasion and many local scenes around Portland Harbor.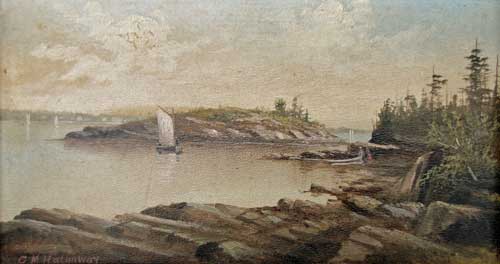 George M. Hathaway (1852-1903) 


Pumpkin Knob, Portland Harbor 

Oil on board, sizes 6 x 10 1/2 in. framed
$1500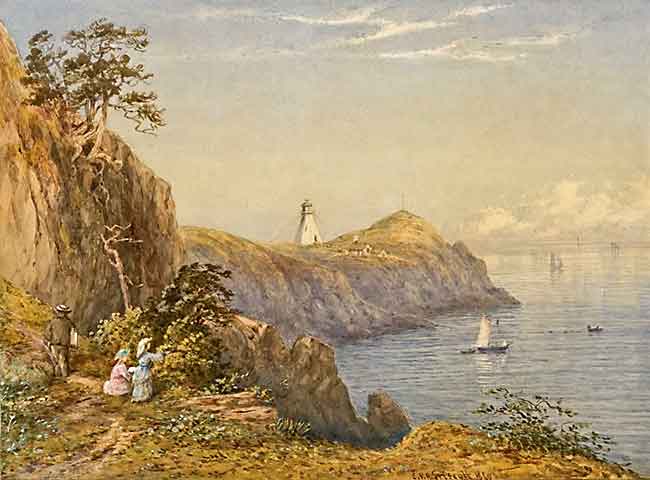 Sparrowhead Light House, Grand Manan
Samuel Peter Rolt Triscott
17.50" x 23.38"

Created: 1890
Framed under glass with mat 28x34
$9000
Samuel Peter Rolt Triscott was born January 4, 1846 in Gosport, England. He was one of five children and had a genteel middle class upbringing. Triscott studied civil engineering. His artistic training in painting was at the Royal Institute of Painters in Water Colors in London under Philip Mitchell.

In 1871 Triscott moved to America and settled in Worcester, Massachusetts where he was a partner in a civil engineering firm. In 1874 he began selling paintings from his office in Worcester. In 1881 Triscott had a one man show at the Boston Art Club. His style of painting with fluent washes of transparent color, though a change from the accepted norm, was well received. Triscott worked as a painting teacher during this time and it is believed his students included Winslow Homer, Sears Gallagher, William J. Bixbee, Woodbridge Gee, Melbourne H. Hardwick, Charles Copeland, William Ladd Taylor, and Robert Henri.

Triscott became quite active in the art world and showed regularly at the Boston Art Club, the American Watercolor Society in New York, The Pennsylvania Academy of Fine Arts and the Gallery of J. Eastman Chase. In 1885, he was one of the founding members of the Boston Society of Water Color Painters.

Triscott began visiting Monhegan Island off the coast of Maine in the early 1890's. The artist purchased a large lot of land which he sold off for cottages in his later years. Every year Triscott increasingly spent more time on the island eventually staying there year round. On April 28, 1894 Triscott was naturalized in Boston. He returned to Monhegan Island and continued to show his work and receive exceptional reviews. S.P. R. Triscott died on April 15, 1925 on Monhegan Island.

Source:
"American Art Review", December 2002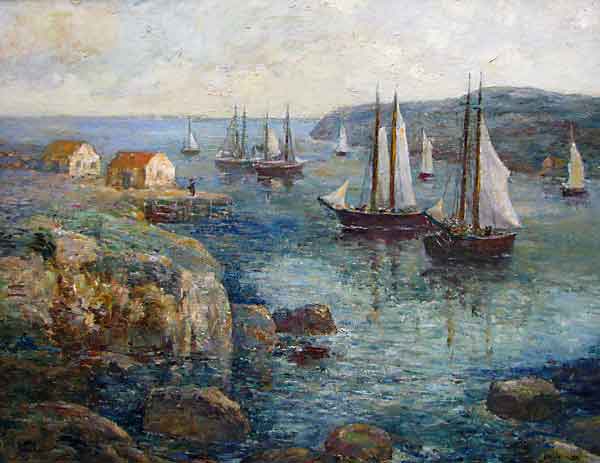 Paul Bernard King, N.A. (1867-1947)
Monhegan Island Harbor
25 x 30 Oil (relined),Antique carved frame 31 x 36
Price available upon request
Versatility, artistic maturity and mastery of technique and medium are hallmarks of Paul King's art. His diverse works of portraits, landscapes, rural scenes and illustrations establish his reputation in the first quarter of the century.
From 1906, when his oil painting "Hauling in the Anchor Line" (date and location unknown) captured the Salmagundi Club's top two prizes, King regularly received recognition. His merit was freely acknowledged by his artist peers, as well as by the critics and the public.
King was born in 1867 to a Buffalo, New York goldsmith. Apprenticed there to a lithography firm, he became an accomplished printer. King later studied at the Art Students League of Buffalo and, from 1901 to 1904, at the New York Art Students League with Henry S. Mowbray. While a student, he was an illustrator for "Life" and "Harper's" magazines. From 1905 to 1906, King studied in Holland with Willy Sluiter, Evert Pieters and Bernard Bloomers.
He was a board member of the Philadelphia School of Design for Women, serving as vice president and acting president, from 1908 to 1921. In 1921, he moved from his long-time home in Germantown section of Philadelphia to Stony Brook, Long Island, where he died in 1947.
Memberships: Allied Artists,America Federation of Arts, Artists Aid Society, Artists Fund Society, International Society of Arts and Letters, Pennsylvania Academy of Fine Arts, Philadelphia Art Club, Salmagundi Club
Public Collections:Albright-Knox Gallery, Buffalo; Butler Art Institute, Youngstown, Ohio; National Gallery of Art, Washington, D.C.; Reading Museum, Pennsylvania; Los Angeles Museum; Houston Art Museum; New Pantheon, Nashville, Tennessee. (From "American Art Analog").
Biography from Roughton Galleries,Inc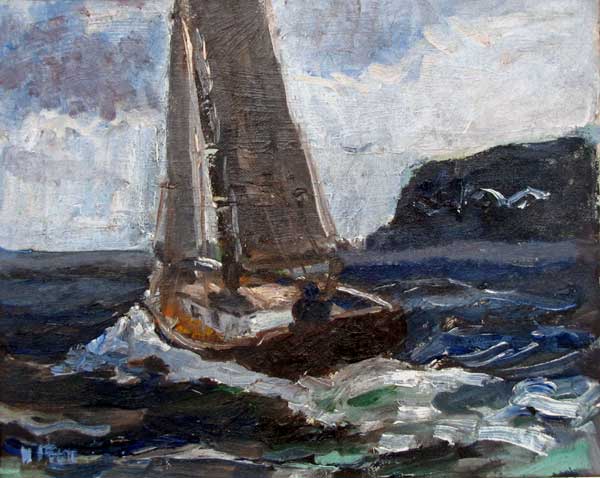 WILLIAM THON, NA (1906-2000)
Monhegan Fisherman
8 x 10 Oil on canvas board
12 x 14 framed in gold
$2500
William Thon was an American artist noted for highly abstracted landscape paintings. He was born in New York City in 1906, and spent his childhood summers camping on Staten Island. He also developed a great love of travel, and in 1933 made an eight-month voyage to the Cocos Islands in the Pacific. He debuted as a professional artist in 1939 at the Corcoran Gallery Biennial exhibition.
Thon chose to live in the relative isolation of Maine on a peninsula overlooking the sea, a quiet place, especially in winter. He chose the company of sailors, craftsmen, lobstermen, a few fellow artists, and his beloved wife Helen. This area is credited as providing a major breakthrough stylistically because of his discovery of an abandoned quarry near his property. Here he did numerous and increasingly abstract paintings of spidery trees with rectilinear slabs of interspersed granite. While still based in nature, these were by far the most abstract of any of his paintings.
Each season, William Thon would send his paintings off to the prestigious Midtown Galleries in New York City as though sending them on a journey to a strange and distant land. Each bore the imprint of his intense connection to raw and wild things, beautifully contained within the artist's capable and generous temperament. Thon's paintings of Maine had little to do with rural nostalgia or American historical values or the pathos of human relationships. His was a living Maine, a timeless and vital place reflecting his own passion for its rough, beautiful forests, intemperate seas, and the scatter of wooden buildings along its rugged shoreline.
He died at his home in Port Clyde on December 6, 2000 at age 94. He had continued to work after macular degeneration had left him legally blind. From his estate gift of four million dollars, the Portland Museum of Art, Maine, received the biggest cash gift to that time. William Thon was awarded innumerable prizes and is represented in over 60 museum collections including The Metropolitan Museum of Art, The Brooklyn Museum, The Hirshhorn Museum, The Butler Institute of American Art, The Columbus Museum of Art, and in Maine, The Farnsworth Art Museum, The Portland Museum of Art, and The Ogunquit Museum of Art.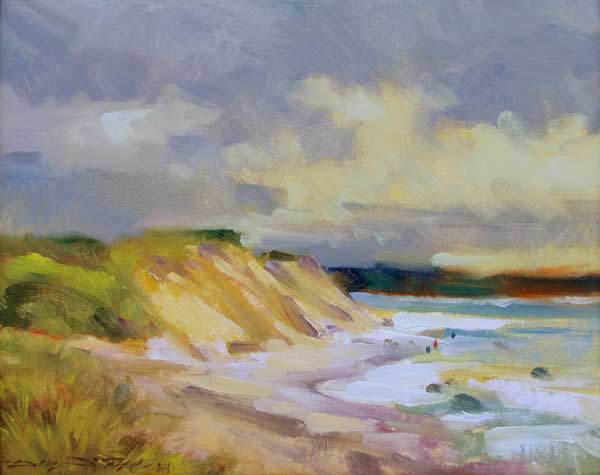 Don Stone, N.A.
Stripers
10 x 12 Oil on panel
16.5 x 18.5 gilt wood frame
Signed lower left "Don Stone N.A."
PROVENANCE: Acquired from the Crane Collection, Wellesley, MA, 2005
$2000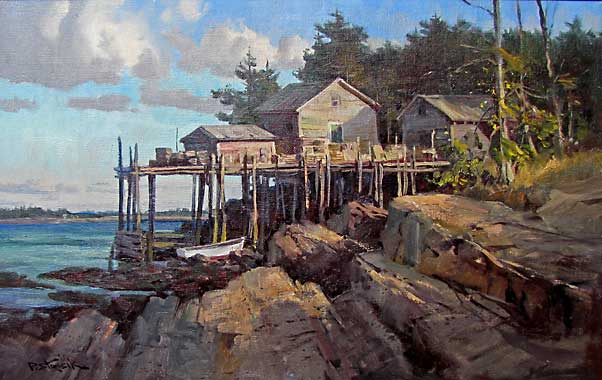 Paul Strisik N.A. (1918-1998)
Maine Coast
Oil on Canvas 16 x 24
Framed 22 x 30, Condition: excellent
$8000

Born in Brooklyn, New York, Paul Strisik became a resident of Rockport, Massachusetts, where he did landscape painting that brought him national recognition. After serving in the Navy during World War II, he studied at the Art Students League in New York City and with Frank Vincent DuMond. In 1953, he moved to Rockport, where he was active in the Art Association and other local civic organizations.

He was a member of the National Academy of Western Art, the American Watercolor Society, and the Oil Painters of America. During his long career, he won 185 awards including 16 gold medals. He and his wife, Nancy, also maintained a home in Santa Fe for 12 years, and in 1996, he was honored as Artist of the Year by the Santa Fe Rotary Club. He was widely respected for his willingness to share his talents with young artists, and taught numerous workshops including at the Scottsdale Artists' School. He wrote several books, his last one being "Capturing the Light in Oils." A reviewer in "Art Talk" quoted him: "God's light on a blade of grass is such a miracle, and so difficult to capture in paint; it is worth a lifetime of trying" (10/98). He died July 22, 1998 at his home in Rockport.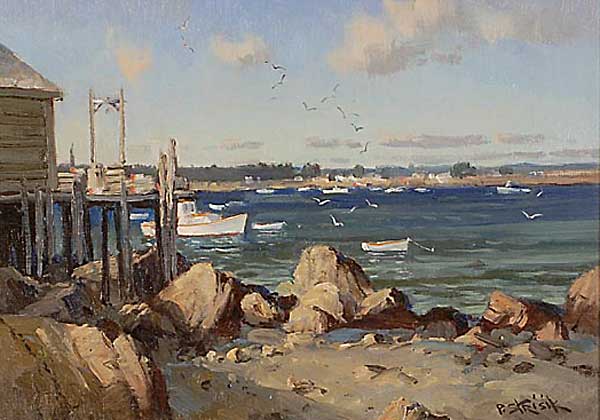 Paul Strisik N.A. (1918-1998)
Sparkling Harbor, Maine
Oil on Canvas 10 x 14
Framed 16 x 20, Condition: excellent
$5000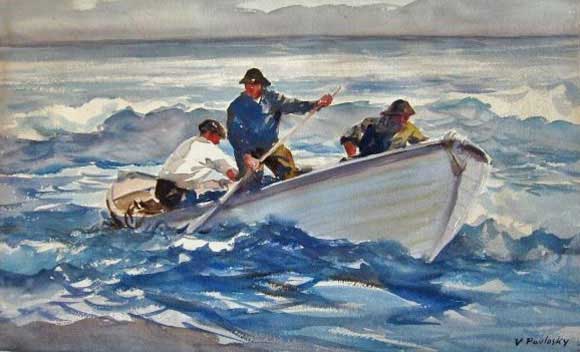 Vladimir Pavlosky (1884 - 1944)
Fisherman in Dory
Watercolor 15 x 22
$2400
Vladimir Pavlovsky was born in the Ukraine, Russia into a long line of Russian painters, guilders, and carvers. At the age of twenty, Vladimir moved to the United States to avoid conscription in the Tsar's Army. Once in the United States, Vladimir settled in Boston, where he quickly became active in the art community. From the 1920's on until his death in 1944, he exhibited his works widely in Boston art galleries and museum shows. Pavlovsky specialized in shore scenes depicting the life of Gloucester fisherman and the coast of Maine. His painting "The White Peacock" was awarded second prize at an exhibition of the works of Boston artists at the Museum of Fine Arts Boston -- the first prize of this exhibition was granted to John Singer Sargent.
Pavlosky's expressed his personal philosophy of art in this quote: "An artist should be a good, honest man, true to his work, true to nature. Art is the expression of the soul; to paint well one must live well. The moment an artist begins to think whether his work will sell, he does less commendable work, he is less of an artist."
Arthur E. Ward (1863-1928)
Willow Road, Rockport, Mass. c. 1900
10 x 14 Oil on board (Framed 15 x 19)
$1200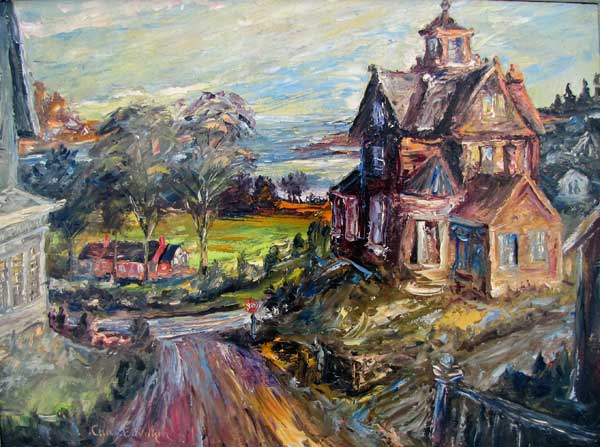 CHARLES E. WILLETTE (1899-1979)
Homes in Hampden Maine
18 x 24 Oil on wood panel
24 x 30 carved wood frame
$1000
CHARLES E. WILLETTE (1899-1979)
Dry Dock
18 x 24 Oil on wood panel
24 x 30 carved wood frame
$1000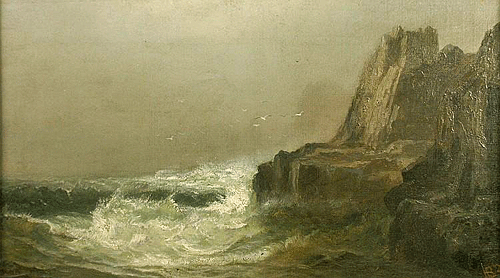 Harrison Bird Brown (1831-1915)
View of Grand Manan
Oil on Canvas 10x18
$5500 Framed
Harrison Bird Brown was born in 1831 in Portland, Maine, and is best known for his White Mountain landscapes and marine paintings of Maine's Casco Bay. By 1860, Brown was being praised as a leading American marine painter. Brown was one of the early artists to paint the coastline of Maine's Monhegan Island, where he depicted the headlands as awesome, mystical forces. Humanity versus nature, and the human relationship to nature, themes prevalent in mid and late-19th century literature and philosophy, figured frequently in his seascapes.
The coast of Maine was a favorite painting venue of Brown's for over thirty years. He depicted the wholesome outdoor environment of the state, with special fondness for the Casco Bay area and Grand Manan, an island off the New Brunswick, Canada coast. Brown also produced two widely distributed illustrations of Crawford Notch for the Maine Central Railroad in 1890.
Harrison Bird Brown exhibited at the National Academy of Design in New York from 1858 to 1860, and at the Boston Athenaeum and Philadelphia Centennial Exposition in 1876. By 1892 he had become the best known native Maine painter of his time, and gained fame for himself and the state with a large canvas in the Maine pavilion of the 1893 World's Colombian Exposition in Chicago. In 1892 he was elected president of the Portland Society of Art.


Alfred Thompson Bricher (1837-1908)
Figure in a Boat Near Shore
Monogrammed l.r., labels from Barridoff Galleries, Portland,
Watercolor and gouache en grisaille on paper,
sight size 2 3/8 x 6 in. framed
$2800
An Associate of the National Academy, Alfred Thompson Bricher was known especially for his serene, luminist seascapes, reminscent of works by Fitz Hugh Lane and Martin Johnson Heade. Born April 10,1837, Portsmouth, NH, Bricher grew up in Newburyport, MA. Largely self-taught, Bricher studied art at Lowell Institute, Boston in the 1850's. In the 1860s he followed his contemporaries to the White Mountains, and was active in Boston and Newburyport, MA until 1868 when he moved to New York. He executed his best work during the 1870s-80s when he spent many summers painting on the coasts of Massachusetts, Maine (Monhegan Island), and Rhode Island (1871-76), as well on Long Island, especially at Southampton.
Bricher was a significant second-generation Hudson River School landscapist and marine painter who is considered to be the last of the relevant American luminists. He is best known for his marine paintings depicting New England shorelines, in which crashing waves show the dynamic forces of nature.With ease and finesse he captured the natural ambiance around the ocean and its coasts and the artist's reverence for the presence of what is before him is apparent.
Today A.T. Bricher is considered one of the finest marine painters of his era, and his work is in great demand because each of his canvases and watercolors show resplendently and with confident brushwork how nature looked during the late 19th and early 20th centuries.


Sunset, Monhegan

Jay Hall Connaway (1893-1970)
Signed "Connaway" l.r., titled reverse.
Oil on board, 24 x 29 in.

$6000
Born in Liberty, Indiana, Jay Hall Connaway was fascinated by coastal life and marine scenery, an attraction that had profound effects on his life and artwork. After periodically studying at the Art Institute of Indianapolis and at the Art Students League with William Merritt Chase, Connaway traveled throughout the United States.ndertake further study in Paris at the Academie Julian and at the Ecole des Beaux-Arts. Encouraged by Robert Macbeth (Macbeth Gal., NYC) and artists Paul Dougherty, Emil Carlsen, and Frederick Waugh, he spent 1922-25 painting at Head Harbor, ME. From 1929-31 he was painting in Brittany and Paris, sponsored by Macbeth and Milch. Returning in the midst of the Depression, he and his family settled at Monhegan Island, ME year-round from 1931 until 1947. when they moved to Dorset and then Pawlet, VT. A popular landscape painter with robust brushwork, he gave lectures and demonstrations around the country. He ran a summer school at Monhegan until 1947, and at Dorset, VT until 1966. His work was featured in an unprecedented 85 one-man shows, evidence of his successful and widely renowned career as a skilled sea painter.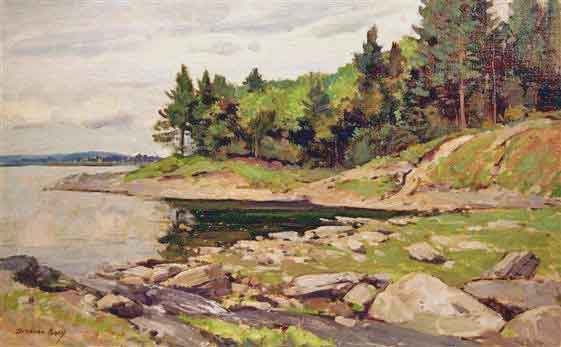 Bernard Corey (1914-2000)
Coastal Inlet
signed Bernard Corey, l.r., oil on board 10 x 16
Ornate Gold Frame 16 x 22
$3400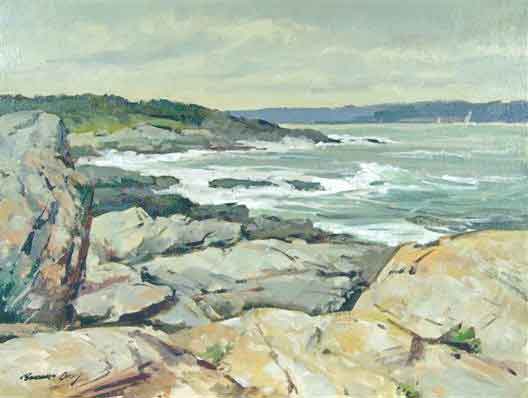 Bernard Corey (1914-2000)
Maine Surf
signed Bernard Corey, l.l.,
oil on board 12x16
Framed in Silver 18 x 22
$3600

Bernard Corey is one of New England's most beloved landscape painters of the 20th century. He executed paintings surely en plein aire with accuracy and competence. Memberships included the Rockport Art Association, Salmagundi Club, the Guild of Boston Artists, North Shore Art Association and more. Having won over 100 awards and honors, including awards at the North Shore Art Association, Rockport Art Association, Salmagundi Club, NYC, Hudson Valley Art Association, Providence Water Color Club, Allied Artists of America and many more. He painted almost every day of his life with fellow artists in the fields, along the streams and beaches and in the mountains in and around New England. Although the artist traveled throughout the world, Paris made little impression on him. He was American through-and-through.

Bernard Corey was the "last of the old school" of traditional New England landscape painters. When he died early in 2000, the era when artists painted for ten hours a day, every day with competency came to an end. Corey's carefully painted impressionistic plein aire canvases captured the essence of nature in all four seasons. The Rockport Art Association gave Corey a retrospective exhibition (October-November 2000) saluting the artist's profound understanding of nature and painting.


Asa Grant Randall (1869-1948)

"Summer Afternoon at Boothbay"

Oil on canvasboard, 12 x16
$1600
Asa Grant Randall founded the Boothbay Art Colony in Maine in the early 1900's. Randall, from Waterboro, Maine, first visited Boothbay in 1905 and loved the area so much, he was back the following summer, launching what became "The Commonwealth Colony of Art and Industry." Here's how he described the area in a later brochure about his school:
"Boothbay Harbor, the beautiful town by the sea, is the gem of the whole coast. It has been said of this town that nowhere is there a spot with the air more odorous with the scent of the evergreen forest mingled with the clear, bracing salty breath of the ocean. Nowhere can the skies be bluer or the waters clearer. Nowhere is the scenery more beautiful or the surroundings more peaceful."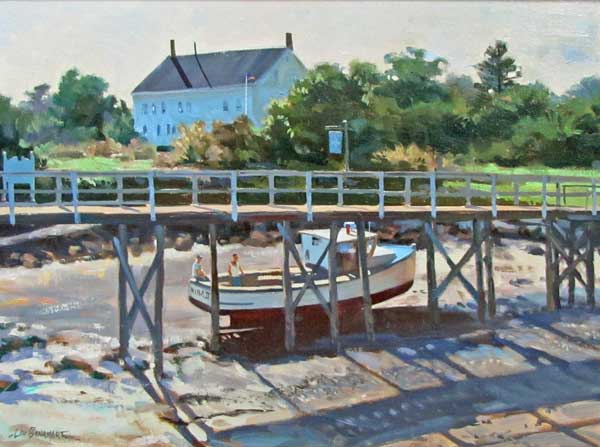 LOU BONAMARTE (American, 1933-)
NINA II AT TENANTS HARBOR
Oil on canvas 12 x 16
gold frame with linen matte & gilt liner 20 x 24
$1800
Lou Bonamarte was born in New London, Connecticut, a deep river port, in 1933 and has spent many years roaming the piers and shoreline not far from his home, sketching and painting.
"Began painting at the age of thirty-five. Studied with John Pike in 1964 and again in 1968. Prior to this I was a graphic designer and also did illustration. During this period I attended many outdoor (sidewalk) shows and, then in 1970, 1 decided to go fulltime as a fine artist. I had little success at first and was doing freelance illustration and advertising design. I receive my first acknowledgment from the American Watercolor Society in 1972, when they awarded me the Herb Olsen Award for my watercolor "Martha's Porch". Three years later, in 1975, 1 became an artist member of Grand Central Art Galleries in New York City. I was one of three people who were responsible for founding the Lyme Art Academy of Fine Arts."
Stanley Wingate Woodward (American, 1890-1970)

When the Wind Blows West

Oil on Canvas 12 X 16 in.
Stanley Wingate Woodward was a Rockport school painter of marine subjects. He was the author of "Adventures in Marine Painting" and "Marine Painting in Oil and Watercolor" He exhibited widely ( the Penn-sylvania Academy, Corcoran Gallery, National Academy, Boston Museum of Fine Arts, etc.) He was awarded many prizes, National Academy, American Watercolor Society, Baltimore Watercolor Society, Rockport Art Association, North Shore AA, etc. His work is in The Boston Museum, Fort Worth, Univ. of Michigan , Bowdoin College, Amherst College, etc.

See the calendar for future exhibitions.